June 2020. This is a revision of a blog I posted on February 9, 2017. Though the struggles don't seem to cease, this year, our experience during the Covid-19 Pandemic and the fight for Black lives, racial justice and an end to police brutality, demands some extra nutritional fortification and strengthened immunity.
A friend, an indefatigable defender of human rights and environmental causes, writes to me and asks what to eat in troubled times. I reply,
You should eat the foods of the people from around the world who now need your strength of resistance
Beans, collard greens,
Tzimmes, hummus, dahl,
Fatteh, dolma, kibbeh,
Chicken soup with tortilla or matzoh ball.
Figs, plantains, chiles, dates,
Guacamole, and holy mole, spooned upon the plates.
Of course, some xocolati, I mean chocolate, dark,
Lots of tea, a handful of nuts 
All strengthening for the heart.
And, don't forget the grits. (Basic or Savory) You will need them for the soul.
The concurrence of both the Covid-19 pandemic and the Black Lives Matter movement has shone a bright light on the social and health disparities in our country, and the dire consequences for black and brown communities of color. As such, the topics of diet, nutrition, food systems, and food access, which I have previously written about, have been reverberating more loudly of late.
An appreciation of the factors which have contributed to this maleficent situation need include an understanding of the history of the African-American diet–from its African continent roots, the insults of slavery and oppression, to the implications of its modern-day corruption. A discussion of this can be found in An Illustrated History of Soul Food, by Adrian Miller.
Along the continuum from past to present, through the generations, are two African-American women notable for their contributions to the food, nutrition, culture, and community narrative. One is chef, teacher, political activist, and author, Edna Lewis, (1916-2006). "Lewis cooked and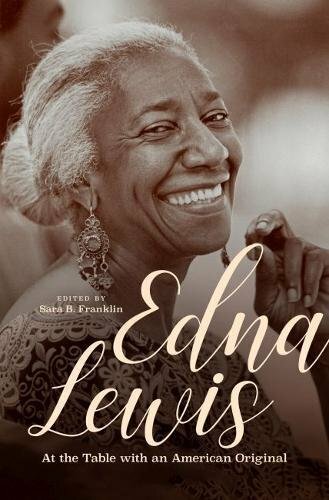 wrote as a means to explore her memories of childhood on a farm in Freetown, Virginia founded by her grandfather and other black families freed from slavery. Long before the natural-food movement gained popularity, Edna Lewis championed purity of ingredients, regional cuisine and farm-to-table eating."
"She was a chef when female chefs–let alone African American female chefs working in restaurants–were few and far between. She authored what are considered some of America's most resonant, lyrical and significant cookbooks" including The Taste of Country Cooking*, The Edna Lewis Cookbook*, and, In Pursuit of Flavor*. Bring Me Some Apples and I'll Make You A Pie*, is a children's book/cookbook about Ms. Lewis by Robbin Gourley; and, At the Table with an American Original*, is a collection of others' essays about her life, edited by Sara B. Franklin.
The other is Haile Thomas. At just 19 years of age, this remarkable young woman is a "youth health activist, vegan food and lifestyle influencer, cookbook author, speaker, founder/CEO of the nonprofit organization HAPPY-Healthy Active Positive Purposeful Youth, and a Wellness and Compassion Activist". A Wellness and Compassion Activist–so needed. I will let her own words speak for her.
Questlove and Haile Thomas Bring Nutrition Activism to All Communities
Haile Thomas: The Happy Organization/Keynote Speaker–FoodTank
Haile Thomas: Living Lively: 80 Plant-Based Recipes to Activate Your Power and Feed Your Potential (due to be released end of July 2020)*
* Please check out these black-owned bookstores for purchase of any of these books: @marcus.books, @esowonbooks, @peoplegetreadybooks, and @unclebobbies.
Thank you for listening, sharing, following, and supporting my writing. Please subscribe in the sidebar to receive notice of new posts. Comments and greetings always welcome.
Be well. Take care. Stay safe. Let's heal.
In health, Elyn
Related Posts: Morose Meals and Human Bites; Of Poverty and Light; A Cinderella Story; Love Is Love
Every immigrant group could look down on them. There was always a bottom that you could be hostile to and that was useful in bringing the country together into the melting pot. What was the basis, the cauldron, the pot? Well, Black people were the pot. Everyone else was melted together, and American.
by Toni (Morrison)
Photo Credit: Grits and Collard Greens–Kim Daniels on Upsplash